Are you interested in representing CaptiveAire and selling our products?
Please fill out the following form, and we will contact you soon.
Products >
Exhaust Fans >
Inline >
SIFDD
SIFDD

DIRECT DRIVE INLINE
Air Volume: 1 – 32,000 cfm
Maximum SP: 5" wg. @ standard air density
Two full size access doors provide easy access to the wheel and motor
Wheels are backward inclined, non-overloading
Speed Control allows for field adjustment and system balancing
Thermal overload protection (single phase)
Electronically Commutated Motor (single phase)
Fan Speed Control for ECM manual control or 0-10V control
Aluminum wheels
Housing is galvanized steel construction or stainless steel construction (-SS Models)
Disconnect Switch Standard
Side discharge options
Units can be installed at a 90 degree rotation
Unit can be installed horizontally & vertically
Mounting Brackets Standard
2" NPT threaded drain included with sizes 11-36 Stainless Steel Versions, 1" NPT threaded drain used on sizes 9-10
Floor Vibration Isolators
Ceiling Vibration Isolators
Back Draft Dampers
Motorized Back Draft Dampers
Discharge Screen
Square Duct Inline Connectors
Inlet Rings For Round Duct
Side Discharge Left
Side Discharge Right
UL762 Rating
Low Pressure Square to Round Discharge Adapter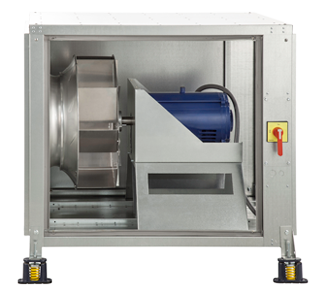 CaptiveAire certifies that Models SIF11DD thru SIF36DD are licensed to bear the AMCA seal. The ratings shown are based on tests and procedures performed in accordance with AMCA Publication 211 and 311 and comply with the requirements of the AMCA Certified Rating Program.

Models SIF11DD thru SIF36DD have been certified by ITS. This certification mark indicates that the product has been tested to and has met the minimum requirements of a widely recognized (consensus) U.S. products safety standard, that the manufacturing site has been audited, and that the applicant has agreed to a program of periodic factory follow-up inspections to verify continued performance.

Models SIF11DD thru SIF36DD are ETL Listed under report number 3100959CRT and comply with UL705 and CSA C22.2, No. 113 Standards.