CA-HVLS Fans
and Controls
Range from 8 to 24 Foot Diameter
Operates on 1 to 2 Horsepower
Used year round with benefits in both heating and cooling conditions
Quiet and efficient operation
Low operating expenses for fan and minimal maintenance required
Better performance with Tubercle Technology
User friendly controls with LCD Screen
High Volume Low Speed Fans
Tubercle Advantage
Offering stall angles as high as 22 degrees
Reduces number of fan blades needed versus conventional airfoils
Noise reduction by eliminating tip stalling
Lowers vibration and leads to less wear and tear on the blades and drive train
Tubercles on the leading edge of the blade help improve aerodynamics and channel airflow into more narrow streams to create higher velocity.
Superior Construction and Safety
Range from 8 to 24 foot diameter
Capable of moving nearly 400,000 CFM
Low operating expenses - costs approximately 6 cents per hour for one fan at 0.75 kW
Minimal maintenance requirements
Safety clips and blade safety links - prevent rotor or blade from falling in unlikely failure of the hub or drive system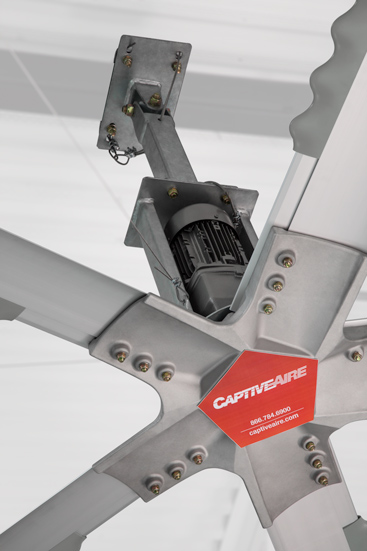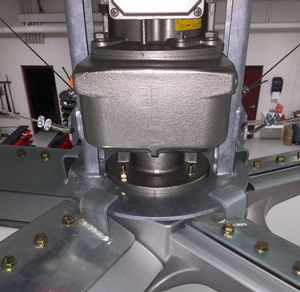 Heating and Cooling Benefits
Create a non-disruptive laminar airflow above floor level to provide effective summer cooling
Use in heating months at lower speeds for destratification
Reduces the recovery time when overhead doors are open via a constant flow of air throughout the space
Eliminates the need for noisy "man-cooler" type fans throughout the facility
Will not interfere or disrupt make-up air, heating or air conditioning systems
Fan Controls
Variable frequency drive provides soft start and full variable speed operation
Operated manually, automatically or via building management systems
Emergency shutdown feature to interlock with the building fire alarm panel
Real time status of fan speed, space temperature and status via digital interface with LCD screen
Microprocessor based controls for customizable options
The HVLS has been certified by ITS. This certification mark indicates that the product has been tested to and has met the minimum requirements of a widely recognized (consensus) U.S. and Canadian products safety standard, that the manufacturing site has been audited, and that the applicant has agreed to a program of periodic factory follow-up inspections to verify continued performance.
HVLS Models are ETL Listed under file number 101745142TOR-002 and conform to ANSI/UL Standard 507 and CAN/CSA C22.2 No. 113.