Are you interested in representing CaptiveAire and selling our products?
Please fill out the following form, and we will contact you soon.
Efficient Make-Up Air Delivery Method
Supply Plenums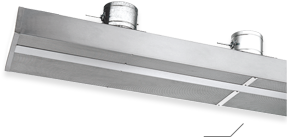 Patented Dual Plenum Design

Dual Plenum Design
Dedicated Make-Up Air
Building HVAC Air
PSP

&

AC-PSP

LED Lights
Visually Functional and Aesthetically Pleasing
Parts & Labor - Baltimore, MD
Scotty Browns - Bellevue, WA
Display Center - Raleigh, NC
Parts & Labor - Baltimore, MD
Display Center - Raleigh, NC
Optional LED Lights
Option allows for lighting around the hood and available with AC-PSP and PSP. Round, recessed LED lights are placed in the divider between the PSP and the AC plenums. The light is a 3.5 watt, warm white and 20 cluster LED, and can be wired directly to 120V AC.
The Evolution of Make-up Air Delivery
The Perforated Supply Plenum (PSP) and AC Perforated Supply Plenum (AC-PSP) both introduce make-up air near the hood and direct air downward into the capture area of the hood. The dual plenum design (AC-PSP) adds an additional plenum to allow convenient termination of the HVAC ductwork to the kitchen and provide spot cooling. Providing the required make-up air for your kitchen system, the PSP and AC-PSP both evenly distribute air along the length of the hood through the perforated stainless steel diffuser plates.
Additional Information
This product may be covered by one or more of the following patent number(s): (United States) 7963830, (Canada) 2520330, 2820509, or other U.S. and foreign patents pending.
Solution for Make-up Air Video