Efficient Make-Up Air Delivery Method
Supply Plenums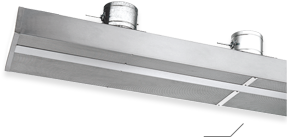 Patented Dual Plenum Design

Dual Plenum Design
Dedicated Make-Up Air
Building HVAC Air
PSP

&

AC-PSP

LED Lights
Visually Functional and Aesthetically Pleasing
Parts & Labor - Baltimore, MD
Scotty Browns - Bellevue, WA
Display Center - Raleigh, NC
Parts & Labor - Baltimore, MD
Display Center - Raleigh, NC
Optional LED Lights
Option allows for lighting around the hood and available with AC-PSP and PSP. Round, recessed LED lights are placed in the divider between the PSP and the AC plenums. The light is a 3.5 watt, warm white and 20 cluster LED, and can be wired directly to 120V AC.
The Evolution of Make-up Air Delivery
The Perforated Supply Plenum (PSP) and AC Perforated Supply Plenum (AC-PSP) both introduce make-up air near the hood and direct air downward into the capture area of the hood. The dual plenum design (AC-PSP) adds an additional plenum to allow convenient termination of the HVAC ductwork to the kitchen and provide spot cooling. Providing the required make-up air for your kitchen system, the PSP and AC-PSP both evenly distribute air along the length of the hood through the perforated stainless steel diffuser plates.
Additional Information
The AC-PSP Plenum is a Patented Product, Patent No. 7963830.
Solution for Make-up Air Video